It is only natural that you love to keep the carpets that decorate your home in a clean state since it helps you be the proud owner of the aesthetic home you always wanted. That said, knowing how to clean them the right way can make you feel nervous. This blog will provide you with some key DIY carpet cleaning tips you can follow to keep them clean at all times. Let's dive in.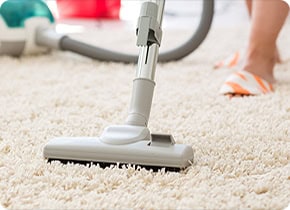 Follow These Tips
Cleaning the Right Way
When cleaning your carpets, it is crucial to push your carpet cleaner at about half the speed of an upright vacuum. Not only will this help you take less time and energy, but it can also prevent any damage that could happen with improper cleaning.
Don't Use Excessive Amounts of Water
Using too much water when cleaning your carpets can lead to mold and mildew growth, not to mention that it can also damage the fibers. That is why it is ideal to use just enough moisture on the carpet to do a good job.
Rinse That Carpet! 
After you finish the carpet cleaning, it is important to rinse them with clean water to ensure all of the detergent and dirt have been removed. This step is essential for your carpet to remain clean longer.
Air Drying Is a Great Choice
The last, and certainly not least, of our carpet cleaning tips is to let the carpet air dry instead of using a fan or hair dryer. This will help you avoid potential problems such as shrinking, color fading, and wrinkles.
Get a Thorough Cleaning with the Experts
Now that you have learned all the DIY tips for carpet cleaning make sure to avoid leaving them dirty for too long to fully enjoy their cleanliness. Nonetheless, if you're looking for professional services and a pristine carpet cleanup,  choose the work of Aim Carpet & Air Duct Cleaning. We offer a reliable carpet cleaning service backed by more than 10 years of experience.
To begin any cleaning service with us, get in touch and agree to our provided estimate. From there, we will work alongside you on your cleaning journey!